Voice Recognition Module V3
We all know that there is a kind of module which can control the light on and off. You make a sound, the light turns on. Then after a while it turns off. This is not voice recognition. We may call it Sound Control. Voice recognition is something that knows exactly what you were saying.
We've beening thinking about a module which helps to control other devices by voice and it will not cost too much. Finally we designed this module. Well, what can this module do? It can recognize as much as 15 voice instruction, which is suitable for most cases involving voice control.
Product Description
Parameter
Voltage: 4.5-5.5V
Current: <40mA
Digital Interface: 5V TTL level for UART interface and GPIO
Analog Interface: 3.5mm mono-channel microphone connector +  microphone pin interface
Size: 31mm x 50mm
Recognition accuracy: 99% (under ideal environment)
Feature
Support maximum 80 voice commands, with each voice 1500ms (one or two words speaking)
Maximum 7 voice commands effective at same time
Arduino library is supplied
Easy Control: UART/GPIO
User-control General Pin Output
Document
Product List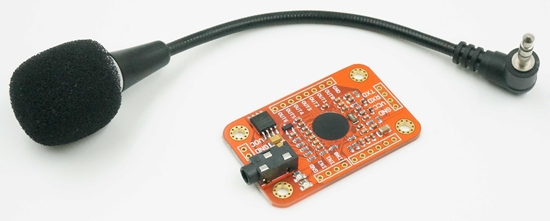 Voice Recognition Module x1
Microphone x1
Only logged in customers who have purchased this product may leave a review.